Jane, Circa 2009
Al should have been there.
Most of you know Al Day as the local musician who made good.   He does more than keep a hand in, playing with his own trio around Chicago and Evanston, and he knows more about music and musicians than I know about anything.

So Al should have been there when I attended the first anniversary at MeToo Café in Hangzhou.   MeToo is an art gallery, despite the Café in the name.  It is one of dozens of show spaces for young Chinese artists, and it is a gem.   The look of New China is … new.   There is very little that is more than thirty years old.   Every hotel, every highway, every office building, every school, every store, every urban tree (almost) has that New Suburban look.   Schaumburg, circa 1970 or … anytime.   So the MeToo is a real find.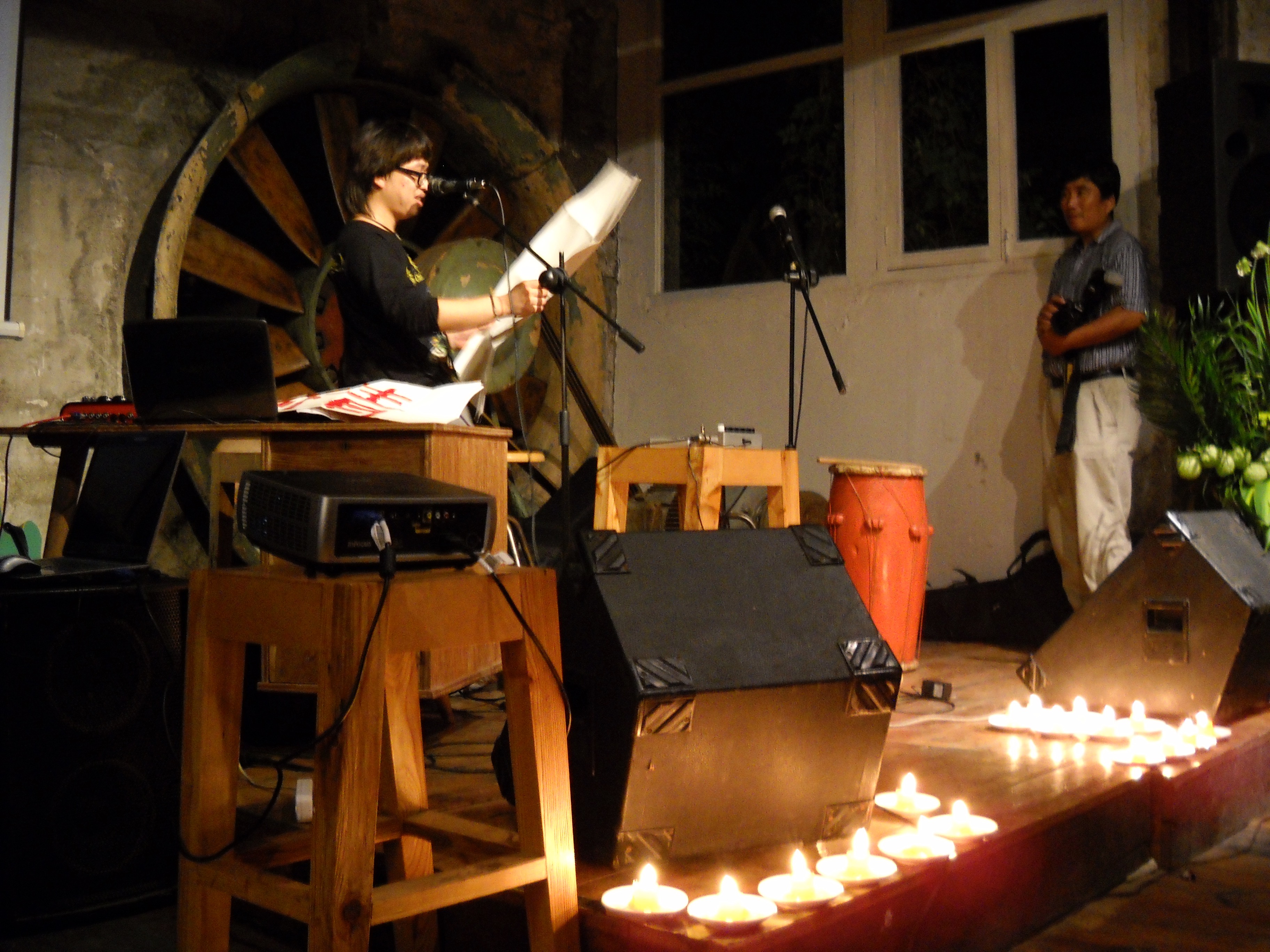 It is in a one story factory building, clearly more than thirty years old and rehabbed.  Really rehabbed.  Brick walls, exposed.  Old horizontal lines of parallel steam heating pipes, now painted black and serving as decoration and as a place to hang art.   Something that looks like an DC-12 airplane engine, but with wood fans, sitting mounted in a big hole in the wall.   Old wood floors, patched and sanded down to the nails.   An assortment of chairs and little tables and a sideboard with coffee (not tea).   A couple of almost living plants in various corners.   Ceiling heights- varied, but generally about fifteen feet.  Enough for some storage of goods on industrial racks, and now home to slow moving ceiling fans.   Concrete roof deck, beams, columns.  A couple of the columns, now that they are over thirty, need a little …. Help.   Some steel members (I didn't measure for size, but in the US they would be about W10x20) assisting the aged columns.    Steel frame windows, which would leak cold air like a big hole in the wall if it ever got cold here.

There are a couple of big couches and some flimsy wooden chairs, along with a bunch of cozy white cushioned arm chairs scattered around.   On the walls, there is Art.   I didn't look at it.   The building and the scene were enough.  It was busy and important.

The scene was the first anniversary, like I said.   Instead of wine and some little cubes of cheese, there was fruit (watermelon and cantaloupe and tomatoes) and tea and coffee and Sprite and Coke.   The big deal was the music.   We arrived, Mr. Yu Gaoqing and I, about 8:30 on Sunday night, and the musicians had just started.   There were about half a dozen performers.   Each one did a piece or two, after which there was a presentation of thanks from the Master of Ceremonies to one of the artists at the space.   The thank yous were pretty neat- a hand drawn caricature of the artist, signed and framed and given to each young artist.  By young I mean not more than 24.   Each one stumbled over a few words of thanks, and shuffled off to help everybody else with the drinks and logistics and setting up for the musicians.  

This was the Club, or the clique, congratulating itself on being so cool and so Right and so persevering in the face of adversity.   But not too cool, or too Right.   There was the super thin girl in leather pants, but she laughed and fumbled around with everyone else and didn't act nearly aloof enough to be an Artist.   But the people in the audience- I counted about 75 at any one time- consisted partly of other artists waiting to be singled out for praise, and musicians, and girlfriends, and assorted hangers-on at MeToo.   We were the outsiders, although people knew Mr. Yu because he runs the web site for the Hangzhou Daily, and so he is a contact to the Real World.  Me, I looked like the obligatory foreign dinosaur, suddenly transported from 75 million years ago.   But everybody laughed and said hi to me and no one called me lao, at least not to my face.   There were two or three people taking videos of every important moment, so the media picture was complete.   I can't find a way to be cynical about all this, but if I were, I would say that the video will be for sale next week as a Celebration of New Art.

Each musician was an acoustic guitar player, some amped and some not.  The first guy was definitely an Artist, flown in from Guangzhou.  He played an intricate note, or a chord, and held it for a few seconds.  Then the sound died, and he waited for about six or seven seconds (I counted after a while) for the Right Moment to hit the next note.   This was one of those times that I should have been appreciating the spaces between the notes, like Jeff would have done.   Instead, I got coffee.    But Mr. Artist was genuinely applauded, and he was able to laugh and help the next guy set up, so he was okay.
A couple of the players had choreographed video to go with the guitar music.  I liked the slow motion smoke the best.  Like a cigarette ad from 1965. 

The hit of the evening was from Beijing, flown in for the event.   The Hit of the Evening was the biggest folk star in Beijing.   He was Bob Dylan, circa 1965.  Guitar, harmonica, gravelly voice biting off Chinese verses, with longish black hair (a big Chinese fad) while he adjusted the guitar and harmonica and commented on the scene.   He really was good. 

Al would know what to say about both these performers.   He would be able to talk about their technique, and who their influences were, and whether they were actually good or not.  Me, I just applauded with everyone else.
The Mistress of this whole affair, the MeToo and the anniversary and flying the musicians in from Beijing and Guangzhou for the night, was Jane.   Jane is a drop-dead 1974 Faye Dunaway look-alike, in jeans and a huge smile for everyone and running around being the Mistress and setting up tables and plugging in guitars and awarding artists pictures of themselves and generally making the evening.   The gallery is her baby.   The story, as I hear it, is that she is married to a big Wenzhou shoe manufacturer, but she wants to do Something Else, and MeToo is it.   So she can fly the musicians in for the night, but she understand the Scene, at least as I understand the Scene, and nothing is overdone.   And she is in a rehabbed one story factory, not on fashionable xihu (West Lake, for those of you whose Chinese is still early) but off in the neighborhoods.    I know that when the Chinese Roman Polanski decides to make meiguo-town (America-town), he already has his Evelyn Mulwray, running the MeToo.   Can't you see her, using the fingernail on her little finger to wipe the blood off Jackie Chan Gitis's nose?
The MeToo was the cap to the evening.  The first part was just as memorable, at least until 8:30 PM.   Mr. Yu invited me to his family's occasional Sunday night dinner at somebody's apartment.   He and his wife and three year old son picked me up at school and drove about half an hour (would have been less, but No One knows the expressway system, since everything is new.  We had a couple of 180's to do.  There are no current maps).   The apartment complex is nice, but the back stairs- or maybe these are the front stairs- to every fancy development I have seen in China are always the same.  Dark, concrete stairs and exposed concrete walls, often not as clean as one would like, with beat up mailboxes on the first floor and heavy locks on the entry door and on every interior door.   Like every developer runs out of money just before he finishes the stairs.

Inside, though, the apartment are very nice and this one was nicer than most I have seen.  A regular big two bedroom condo with a dining room, a decent size kitchen with range hood (really necessary in China since there is so much frying and grilling of food).    Separate living room, with obligatory big screen TV and couches.   About ten or twelve of us at dinner.   Two teenage boys who showed up for a little while, then drifted off for a while to reappear later.  A couple of brothers-in-law, I guess, with wives and one teenage daughter.   The usual warm welcome for me, everybody fumbling with hellos and ni haos and then being stumped, having exhausted our entire foreign vocabularies. 

The entire scene was absolutely familiar.  Men sat in the living room, watching the game, while the women worked in the kitchen as they should (that was for Ellen Herbener, just to see if she was still reading).   Everybody involved in the food prep had done this before, and it was like clockwork.   The usual Chinese banquet of about a dozen or fifteen different dishes, set on the table and squeezed in between glasses of tea and little plates and glasses of beer.   Everybody worried that I needed a fork, and being amazed that I did not.   I am not good with chopsticks, but as I tell everyone, I won't starve to death.   To demonstrate my dexterity, I then switch hands to using the chopsticks in my left hand, which usually amuses and confounds the crowd, since No One in China has ever done that before.

The dinner table discussion was pretty normal, from what I could tell.  Families and events.   Near the end of the dinner, Rachel showed up.  I could not tell if she was related or just  a friend.  She is 27 years old, lives in Beijing, and owns her own small clothing store.   She is the Chinese Rada Yovovich.  Outgoing and talkative and smiley and smart.   Her English is, of course, perfect.  Went to school in Taiwan. 

Men dressed normally.  Long shorts, sport shirts, slippers in the house.  Women dressed a little better, tending to black but dressier than the men, for sure.  Women had spent some money on hair styling- lots of cuts and other stuff that I cannot describe, but nice.  Some painted toes, some not.   Some couples are starting to use wedding rings in China, but I think these couples, mostly in their thirties, are too old for that.   The host always asks what the featured guest would like to drink, beer or liquor or wine, and I opted for beer, which seemed like the safest and best choice.  It met approval.   At family gatherings, everyone does toasts with everyone else, just like at the big government dinners Scott and I have attended (which are actually sort of family gatherings also).    My toasts are getting pretty decent.  I am okay if I can find my inner clinical psychologist or my outer Confucian junzi, but often after a couple of drain-the-glass toasts, I feel more like my inner rugby player, circa 1980.   Not good in China.

Dinner felt so familiar and warm and familial.  Every so often, someone jumped up to run in the kitchen to check on the next dish coming out, and the teenage daughter prepared the rice, which everyone liked.   The fish bones and the meat bones and the crab shell and the shrimp shells all went on the tablecloth, in piles.   The perfect eat-like-Vikings counterpart to the rather elegant meal.   What's not to like?
Update in 2018:  Chen Dongfan, pictured above in 2009, has developed a large following, with promotion by Jane, who now uses the name Inna.  Inna has galleries in Hangzhou and New York, and Chen has been featured at shows in the US and in Europe. 
http://www.fougallery.com/chen-dongfan/
http://www.innart.org/en/top/index.html