Hospital Rules                                Summer and Fall, 2012

(reader note - this is a bit long, but has some details about hospital care.  Forewarned is forearmed)
A while ago, I wrote about mysteries of the parking lot market in Hangzhou. 
There are procedural mysteries everywhere in China.    Systems that are clearly not care-full of the needs of customers, but at the same time, seem not to be in the interests of the provider.   Hospital operations are another good example.   Take the Zhejiang Pregnant Women's Hospital, one of the AAA rated hospitals in China.   Or the Hangzhou No. 1 Hospital, across the street from the Pregnant Women's Hospital, another AAA facility.   Or, I surmise, most any hospital in China.   The systems, both physical and procedural, seem chaotic, redundant, and stupid, for every human inside the building.

It is supposed to be a sophisticated management insight that systems try to optimize.   Something.   Maybe not customer satisfaction, but maybe management benefits, or leader salaries, or bureaucratic time.   Profits.  Maybe it is hard to see what is being maximized or minimized, but by default, something must be. 

Hospital Rules has two meanings here - the procedures and requirements that any organization must impose to maintain order; and the peculiar implementation of rules in hospitals in China for which the only discernible purpose is to grind the customers into submission.   The administrative system - the Rules - uber alles.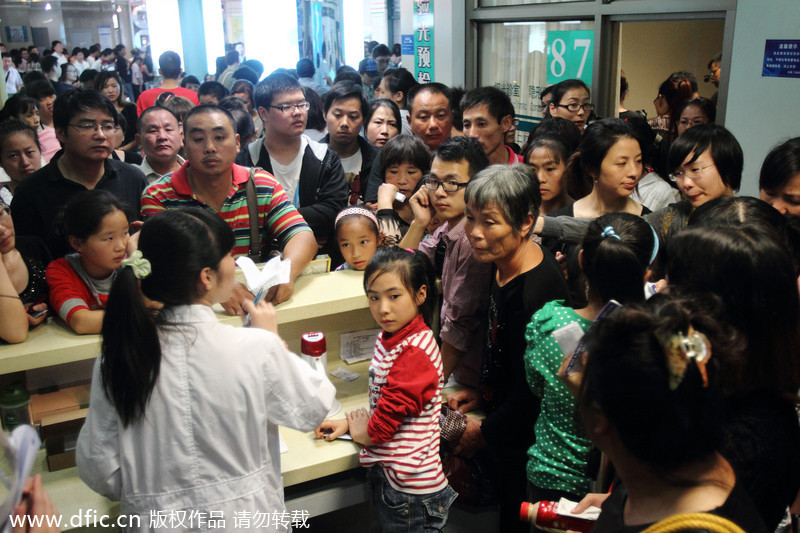 Source: my Experience at a Chinese Hospital  http://www.chinadaily.com.cn/opinion/2014-04/23/content_17455961_2.htm