Update at August 13 -
I wrote a bit about Epoch Times in the post below, mostly about Chinese getting their news from China news sources like public wechat.  Epoch Times is most decidedly anti-CCP, and published by organizations related to Falun Gong, the same people who bring you Shen Yun, the extraordinary dance and performance troup that has been wow-ing Americans for a decade.
In the last two weeks, Epoch Times has been bombarding YouTube with two minute (two minute!) video advertising in advance of a video one is watching.  The ads offer subscriptions to the newspaper, promising to expose the lies of the mainstream media in vilifying Donald Trump.  Here is a screen shot from one subscription ad.  "Honest news" is what they tout.
Donald Trump reads it every day.  'Nuff said.  Chinese can get their "honest news" from Beijing or Falun Gong.  Truly, only no news here is good news.
What Chinese are Talking About (3) - Love Mr. Xi, Love Mr. Trump
We know that mainlanders, particularly those in CCP, have a fondness for Mr. Trump.  There are several reasons – Chinese historically have been willing to defer to strong leaders, and Trump projects arrogance, if not wisdom.  It was clear before the 2016 election that if Trump won, Mr. Putin would win and Mr. Xi would also win.  Events bear this out.  There is no adversary so easy to fool as one convinced of his own superiority, particularly one with such poor justification.  Flattery and artifice will get you … everywhere.  For Chinese interested in foreign policy, all they need do is sit back and wait.  Trump's unforced errors – TPP, belittling allies, cozying up to dictators, removing US from environmental treaties, threatening friends and foes alike – make Chinese arrogance and Mr. Xi's own unforced errors look positively innocuous.  What's not to love about someone willing to play the fool for you?
There is reason to think that Chinese in the US, whether citizens, long-time residents or new green card recipients, might hold more nuanced views about Mr. Trump.  And, in fact, they do.
But often not in the direction you might think.  Case in point – the Chinese American news, sent around the US on wechat.
You know wechat is the ubiquitous and multifaceted phone app from Tencent that has become indispensable to Chinese lives.  For communication purposes, there are two broad categories – private wechat, which functions like a group email, and public wechat, in which wechat operates as a news disseminator.
The news disseminator is well established in the US.  There is Chicago American Chinese news, New York American Chinese news, and probably a dozen or twenty more channels.  The channels have some local news, and share word for word some national stories.
All the channels function only in Chinese.  Anyone can read the news, if they can read Chinese.  For many Chinese in America, these channels function as a principal news source.  Every Chinese student who is harmed in America gets featured, along with positive stories about inventions and developments in China. The wechat channels function as modern versions of the Polish or German language newspapers our parents or grandparents read. 
But in our new era, the politics are different.  Rather than a pro-worker or socialist bent, the wechat channels exhibit a distinct pro-Trump, pro-Republican bias. 
Some bias among Chinese is understandable – they tend to be opposed to attempts to change university admissions standards, which tends to undercut hard-working and high-achieving Asians.  And they tend to be suspicious of Democratic relaxation of immigrant controls, when so many Chinese sacrificed so much to get here themselves.
One should remember that the wechat stories for consumption in America are mostly unsourced, identical across wechat platforms nationally in the US, and written in China or by Chinese working directly for wechat. Five or six national stories are reported each day, in addition to local news.
The wechat groups can be a useful and positive organizing technique.  Last year, a Chinese immigrant used WeChat to win a seat in the Maryland House of Delegates.  Lily Qi raised nearly $150,000 for her candidacy, and did so by contacting non-registered voters directly, with an appeal to change their non-voting behavior.
On the other hand, Australians are worried about fake news stories planted in the wechat groups to steer political views.  The Sydney Morning Herald documents fake news and doctored stories on local wechat groups, and comments  - With less than two weeks until the May 18 election, Chinese social media has become an increasingly powerful tool for all political parties, especially in seats with large numbers of Chinese-Australian voters...
Given its dependence on Chinese trade, and its traditional alliance with the other "five eyes" nations (US, Canada, Britain, New Zealand) Australia has become a prime target for Propaganda Ministry or United Front organizations to influence public opinion. 
Bill Bishop comments at Sinocism - any government should be very concerned over the growing role of Wechat as the primary communications and media consumption tool of the Diaspora. It is after all still controllable and censorable from Beijing.
Wechat is not the only social media platform operating in Chinese, of course.  The political newsletter Popular Information reports on wildly pro-Trump stories in Epoch Times, a media conglomerate with strong ties to Falun Gong, the secretive organization banned in China. A publication with Falun Gong ties is going to be virulently anti-CCP, but they do love Trump.

Epoch Times publishes in Chinese and in English, as well as in other languages. Popular Information reports that Epoch Times "was one of the top three political spenders on Facebook in the last week in April," outspending every political candidate in the country except Biden and Trump, according to third party research. The money was spent "to promote stories that Trump's attorney, Rudy Giuliani, has championed."  Epoch Times spent almost as much on Facebook ads ($148,937) as did the Trump campaign ($149,610) in early May.  Epoch Times is now featuring hysterical Youtube advertising, debunking the Mueller investigation and directly promoting Trump. 

From the Popular Information story.  Epoch Times is number 4 -

 Also from the Popular Information story, about Epoch Times reporting on the FBI spying on Trump -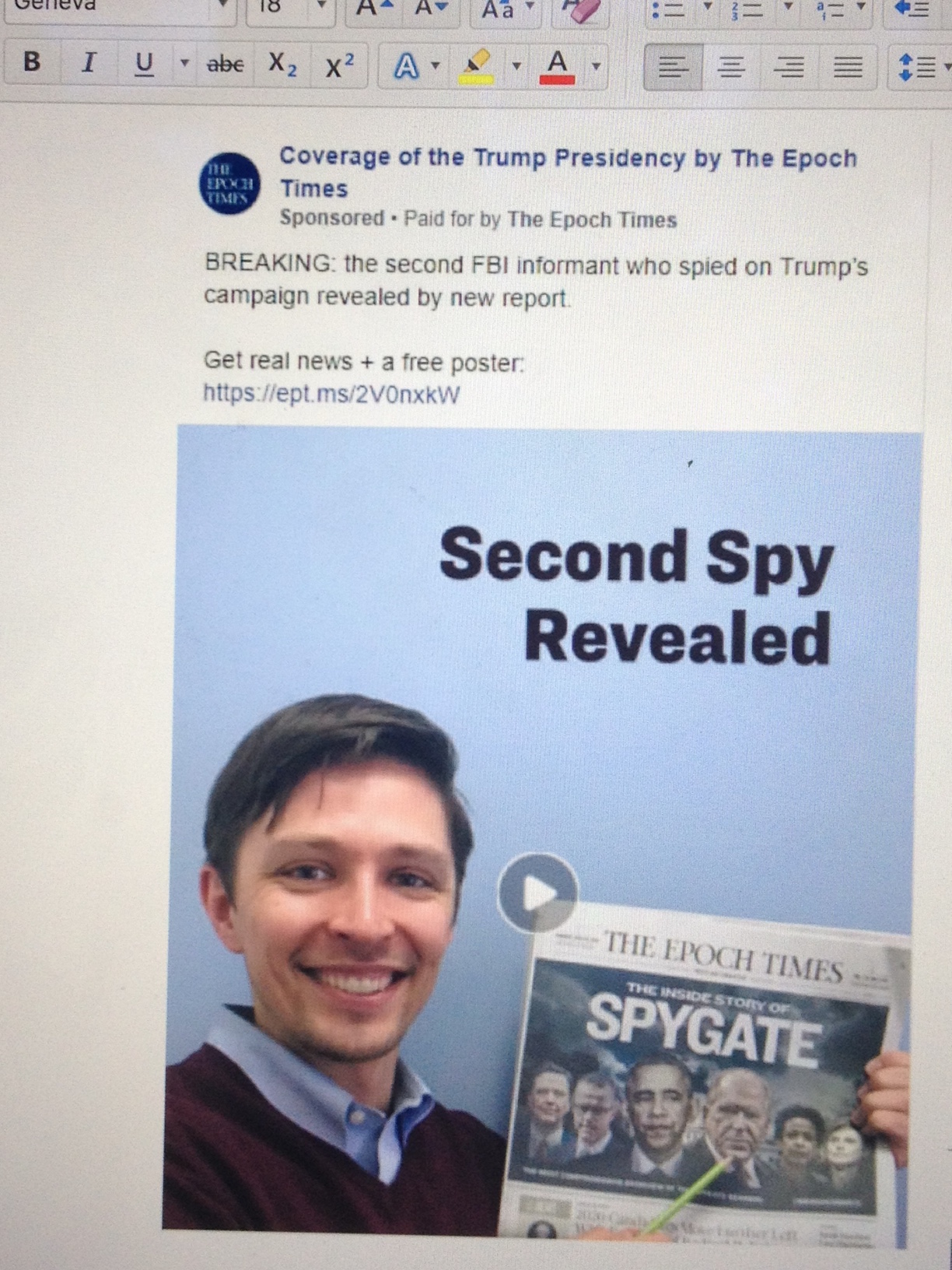 if you could read English only moderately well, wouldn't you migrate to the news in your own native language?  Makes sense to me.  And makes sense to the wechat writers in Beijing, and to the Chinese and English language writers at Epoch Times.  Truly, for Chinese readers in America, no news is good news.